PRODUCT SWAP/REVIEW
My friend Jessica over at
had a great idea to host a product swap. So she hooked up some tpt sellers to try out others products and review them. What a great idea huh?!?
Well...I was lucky enough to be hooked up with Melissa at DillyDabbles
( if you are not a follower of her blog - you must check it out an follower her. )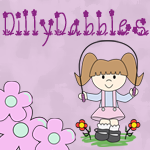 I chose to review her Telling Time Pack. It is sooo awesome! Now if you go to her blog - you can see the product of mine that she has reviewed. Also Jessica's blog will have all of the reviews as a linky party - so if you are itching to buy some new products you get kinda a sneak preview on 100's of them...Today is your lucky day!!! :o)
**First off - this unit is jam packed with lots of FUN stuff for your students. It has 50 pages and is on sale right now for only $3.50 ( through tomorrow at noon ) what a DEAL!! She used the very talented 3am teacher clock graphics which I love all her stuff too. If you want to find out more about Michelle's graphics you can visit her
here
.
Melissa's Time pack is sooo amazing! First off she did something brillant and I just may have to copy her on an upcoming product. She included a freebie within the download preview...how smart is that?!? This unit is jam packed with lots of great ideas/centers etc. It was hard to pick a favorite part of this pack.
Here is a basic overview of the pack
This pack is HUGE!!! 50 pages of clocks, centers,
games, and wonderful ideas and tips. You will not
be dissappointed in this pack one bit.
These are story problem cards...I love that she is getting the kids thinking about elapsed time here. She has also included answer cards to match them...so smart!
I love these! She has used the cute graphics to make center cards with analog and digital times. Your students will match them up. Also the above center she created time puzzles. I LOVE THIS!! You cut the strips how you want to create the puzzle. Your students would then put them together to match the time. FYI These centers I'm showing you have many more pages - I'm just showing you a glimpse.
This litte centers is super cute! Your students can either place clothespins on the correct answer as I did....or you can hold punch over the blue dots and they can poke the correct answer with a pencil. She gives detailed instructions on how you can write the correct answer on the back for self correction, etc.
Also she has included some book recommendations for you to purchase or check out from your school library that will directly relate to this unit.
In this pictues I hadn't added the dots yet...but she even created an activity to go along with The Groucy Ladybug - a cute ladybug template with pages underneath - that go along with the story. Your students would have a ball making this!! You can attach the wings with brads which I didn't have at home. :o(
As you can see this is a FABULOUS pack -- it is more than worth the money and it will be perfect to add to your unit on time. Have fun with it and head on over to her tpt store .... NOW - what are you waiting for?!? Her sale ends tomorrow ( Thurs. ) at noon...so don't miss out!!
Don't forget to visit all the products through the linky party!!!!