Seriously ~ where did this year go?!? I loved my class and am sad to see them go...but kinda excited because I will loop some of them for a 1/2 combo next year. So I love hooking up with miss Farley over at Oh Boy fourth grade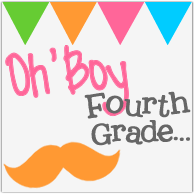 Anywho ~ here is what is on my mind for currently:
I was lucky enough to get 2 visits in with my bestie from Australia...it just made my heart soooo happy! Our kids got to hang out too which was amazing!
My sweet boy is leaving my school --- here he is on his first day of Kindergarten...I could just eat him up. Now he's the student body president...I love that kid sooo much!! :oD
All grown up...okay I'm going to go cry now...talk to y'all soon. xoxox